← Back to Latest News
STEAM Educational Showcase 2019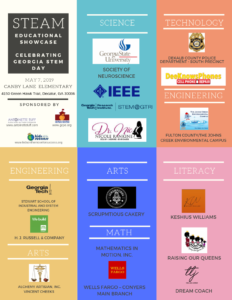 We are in full swing preparing for our 2nd annual STEAM (science, technology, engineering, arts and math) Educational Showcase in a DeKalb County Public School District on May 7, 2019. This event corresponds with the celebration of STEM across the state of Georgia. It is the goal of the event to expose more than 550 students from pre-kindergarten to 5th grade, including the special education classes, to the fun, exciting and diverse world of STEAM. Many of these students have only had minimal exposure to STEM in their classrooms and community. Also, the Kids on the Move for Success Mentees will be learning leadership and organizational skills as the serve as Ambassadors.
Each student will visit more than 17 exhibitors which represent each of the STEAM subject areas. Our exhibitors include universities, engineers, mathematicians, personal coaches and even a baker! We would also like to thank Barnes & Noble, Inc for their generous donation.
Our exhibitor list to date includes:
COLE Academy of Personal Growth – Dr. Nicole Rankine
DeKalb County Police Department 
Dream Coach – Tiara LaRae Johnson
Georgia State University, Neuroscience Institute
Georgia Tech – Research Institute
Georgia Tech – Stewart School of Industrial and Systems Engineering
Institute of Electrical and Electronics Engineers
Fulton County/The Johns Creek Environmental Campus
Raising Our Queens (R.O.Q.), Inc.
Please follow Kids on the Move for Success (KOTMFS) on Facebook and Twitter!
Until next time,
Antoinette